Our New Café Food Menu | Vegan Quesadillas!
As part of our 3-year mission to make the Everyday Vegan Village 🏡 🏡 a reality, I have been exploring and introducing food items 🍽️ on our café menu with the help of the Everyday Vegan team.
It has been a fun week! We have been experimenting with new vegan dishes for our upcoming food menu right here at the Everyday Vegan Café ☕ ☕! 

I found myself grabbing whatever I found interesting in the grocer, and tasting and feeling everything along the way 😋.
I experimented with kimchi 🍱, chili beans 🧆, and even simple munchies like grilled cheese sandwich 🥪 and baked potatoes 🥔🥔.
As is to be expected, there were many failures along the way 🥴😅!
And then one night, I came across a video of a simple vegan quesadilla while browsing on social media. It inspired me to try and make my own version 💪💪!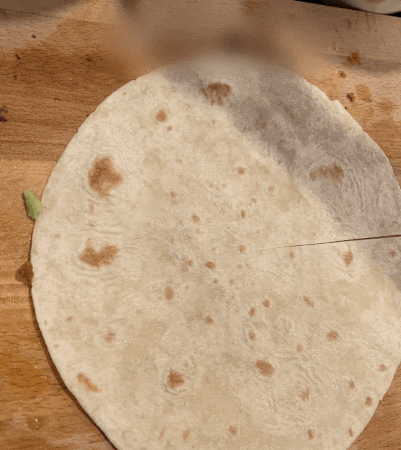 And it was a great success! ✨✨✨
Although simple, the quesadilla was soooo delicious! The entire team loved it. 🤤🤤
 
I can definitely see myself serving this at the café. I had so much fun experimenting with different types of cheese and meat alternatives 😍😍.
I tried one version with Field Roast's Mexican Chipotle Sausages and OMG! IT. WAS. AMAZING 😍! It was spicy 🥵 and rich, fully loaded with flavour, and the vegan cheddar 🧀 was gooey and scrumptious. 
I also used Field Roast's Italian Sausages with smashed avocado 🥑, mushroom 🍄, and sundried tomato 🍅 pesto. Such a classic taste 🍝!
I also wanted to try making a whole-food plant-based recipe. I initially thought of using black beans like traditional quesadilla, but I ultimately decided to be a bit more adventurous by using jackfruit 🤪. I chopped up the jackfruit and marinated it in some barbecue sauce and then grilled it to give it that 'pulled-pork' texture and smoky flavour 💨♨️.
😍 Super Tasty 😍!
I feel very, very, very confident that you will love these dishes .
So… drumroll please 🥁 🥁 …we will be taking a leap of faith and launching our quesadillas at the end of this week 👏 👏 👏 !
You heard me! This Sunday on the 31st of January, we will be serving our quesadillas at a special price for $5 instead of $7! 🥳 🥳.
So, why are we doing this? Because of our 3-year mission of establishing the world's first Everyday Vegan Village. This café menu is a baby step in that direction. We are looking forward to the day that we will be not only serving delicious vegan food like the quesadilla but a whole lot more at our Everyday Vegan Village 🏡 🏡.
As always, thank you very much for being a part of the Everyday Vegan journey 🙇‍♀️ 🙇‍♀️. 
 
Love ❤️, 

Amanda